The Official Home of Gateway Gators Alumni
7,395 people have joined GatewayGators.net
13,588 alumni to alumni email messages sent
4,726 photos have been uploaded
Please help us
If you appreciate this FREE web site, then please "Like" the Facebook page of the Gateway-alumni founded business AMIXA who developed this web site for FREE for the Gateway community. Amixa would appreciate any WEBSITE DESIGN or IT related referrals.

---
---
The Class of 1994 is excited to celebrate our 20 Year Reunion
Please join us at Roland's on the evening of July 26, 2014 for a celebration of life-long friendships and shared memories. Details are as follows:

LOCATION

Roland's Seafood Grill
1904 Penn Ave, 15222

TICKETS

$52 per person, $104 per couple.
Ticket price includes dinner and two drink tickets per person, and also helps us cover the costs of a DJ, decorations, etc.

You may make a payment via PayPal, and send it to jamaicajones316@gmail.com. PLEASE include the full name of each attendee, as well as your maiden name as applicable.If you have any further questions, I can be reached at 303-319-4361.

If you prefer to pay by check, please email me for the address.

Blocks of rooms have been reserved at the Hampton Inn on Smallman Street and the Quality Inn on Boulevard of The Allies.

Please pass the word onto fellow 1994 alumni and join our Facebook group: https://www.facebook.com/events/753468108014636/

Gateway Hockey Alumni 6th Annual Golf Outing
Saturday, June 7, 2014 - Murrysville Golf Club... all are invited (not just hockey alumni...)
Download info here (PDF DOC)
---
2013 Gateway Sports Hall of Fame
The 2013 GSHOF class has been announced. This year marks for 14th year for inductions in to the GSHOF. The annual induction ceremony is scheduled for Saturday, Nov. 9, 2013 at Edgewood Country Club in Churchill, PA. For more information call Tony @ 412-855-3905.
Read full info on the 2013 GSHOF class (PDF DOC)
---
Gateway Hockey Alumni Weekend 2013
GATEWAY HOCKEY ALUMNI WINTER EVENT 2013 SCHEDULE --- Thursday – December 26, 2013
Download info here (PDF DOC)
---
Gateway Hockey Sends Four to Juniors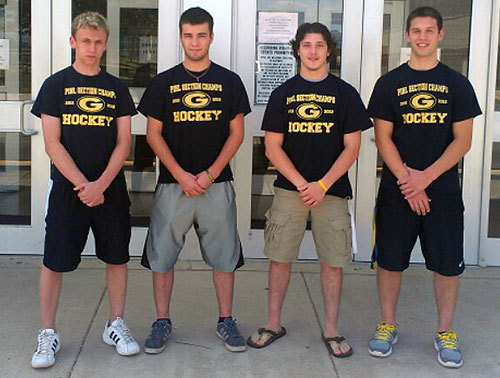 (Monroeville, PA) - In Gateway Hockey's 40th year, the celebrations continue.

Four Gateway Gators will be playing Junior hockey next season. It is believed that no western Pennsylvania high school program has sent as many student-athletes to Juniors in their entire history. Coach Gene Perhac is certain though that sending four student-athletes to Juniors in one year is a feat unachieved by any western Pennsylvania high school to date. Junior hockey is played throughout the United States and Canada by players 18-20 years of age. Playing Juniors allows for a greater challenge than available through their Prep School team, High school varsity or club team, or area Midget teams. American Juniors differ from Canadian Juniors unique as players are immersed into an elite hockey environment without losing their amateur eligibility. As such, American Juniors is the most common pathway to playing elite hockey in college. Nearly all collegiate freshman hockey players have spent one to three years playing post graduate junior hockey. In fact, over the last decade the average age of an NCAA Division One Hockey freshman is nearly 20 years old. This foursome of Gators has led Gateway to success not seen since the turn of the century. Prior to the 2011-2012 season, Gateway hockey had not visited the post season in nearly a decade. These players are part of a core that sent the Gators to Pennsylvania Interscholastic Hockey League (PIHL) playoff appearances in each of the last two seasons. This group of Gators also delivered the greatest number of career wins and the first PIHL section title since 2001. The Gateway Hockey Club coaching administration, coaches, players and parents wish good luck to the following Junior-bound players.

About Junior Tyler Perhac
Although most people consider hockey hotbeds to be in cold climates, Tyler will be headed in the opposite direction to south Florida. Tyler has signed with the Palm Beach (Florida) Hawks of the Empire Junior Hockey League. The Empire JHL has 28 teams in locations from south Florida to western New York to New Hampshire. In addition, Tyler will attend Lake Worth (FL) High School while playing hockey daily. The Hawks have placed 11 players into colleges over the last two seasons. Tyler has played for the Gateway Hockey Club since his fourth grade season was a three year varsity starter as a goalie. During his time in the black and gold, Tyler was a two-time PIHL AA All Star. He was near the top of the leaderboard in all classes of the PIHL for saves in each of his three varsity seasons. Included in these numbers are three games this past season with over 40 saves and one game with 55 saves. Tyler is an Honors student at Gateway and is the son of Gene and Roseanne Perhac.

About Senior Camden Cacolice
Camden's journey to Junior hockey will return him to the area where he was raised. Camden has signed with the Springfield (Massachusetts) Junior ?Pics of the United States Premier Hockey League (USPHL). While growing up in Enfield, Connecticut, Camden played for the youth branch of this club as a Squirt. During his three year Gateway career, Camden was a two-time PIHL AA All Star and a Post-Gazette East ?Stellar Six?. Due to Gateway?s limited defense corps, Camden was moved from his normal forward position back to defense as a sophomore. Although still playing forward for his amateur team, he has played defense almost exclusively for Gateway. Camden led the Gators with 32 points during his senior season including an impressive 13 game point streak. Camden ranks third on the club over the last decade with a 1.33 Points Per Game average. Camden graduated as an Honors student from Gateway and is the son of Paul and Carolyn Cacolice.

About Senior Jon Kasper
Jon will also be taking the trek to Massachusetts as well after signing with the Springfield Jr Pics of the USPHL. The USPHL has 15 organizations from Pennsylvania to Maine. Jon drew interest and an offer from the Junior ?Pics organization last season, but he chose to return for his senior season so he could graduate from Gateway High. Jon will be playing for a Junior organization that has seen an impressive 37 NHL draft choices from their ranks (including NHL Penguins Dan Lacouture, Colin McDonald and Bill Guerin). Even more impressive are the regular player commitments to NCAA teams each season. Jon was a PIHL AA All Star in 2011-2012. He led or was tied for the Gateway team lead in goals for both his junior and senior seasons. His productivity was even more impressive with limited participation in each of his seasons due to his amateur team schedule. Jon ranks in the top five in Points Per Game over the last decade with more than one point per game. Jon graduated as an Honors student from Gateway and is the son of Joe and Judy Kasper.

About Senior Jordan Mardiorssian
Jordan is the fourth Gators preparing to play Juniors in 2013-2014. Currently, he has been tendered offers from both the Portland (Maine) Junior Pirates and Boston (Massachusetts) Junior Bruins both in the USPHL. Jordan played for the Pittsburgh Pens Elite for the past several years. Although he was not able to play for Gateway this past year due to his amateur schedule, he was an important offensive contributor for the Gators each of his freshman, sophomore and junior years. Jordan was in the top four in goals scored each of his years wearing the Gateway black and gold. In 2011-2012, he was named to the PIHL AA All Star team. Jordan graduated as an Honors student from Gateway and is the son of Laurie and Red Mardiorssian.

About the Gateway Hockey Club
Established in 1972, Gateway Hockey has a proud tradition of promoting athletic and academic excellence. The club provides Gateway School District students in grades six thru 12 with the opportunity to play ice hockey at the AA level of competition, and has enjoyed tremendous success building the character, skills, and winning attitude of its players. Without question, the Club's goal and expectation is to win at every level of play, whether Freshman, Junior Varsity, or Varsity, but the true strength of this program is that winning is always judged by more than the score on the board.

---
Gateway High School 40th Class Reunion
Please join us to get together with old friends and reminisce about the good old days at Gateway High School!

Date: Saturday, August 10, 2013
Time: 6:30-10:30pm
Place: Grandview Golf Club
1000 Club House Drive
N. Braddock, PA 15104

Cost: $30 per person

Menu: Light buffet with appetizers, sandwiches, fruit, vegetables and desserts. Soft drinks, tea and coffee included. Cash bar for drinks

Dress: Casual

RSVP by July 27, 2013 to:
Terry Affalter
3469 Treeline Drive
Murrysville, PA 15668

Make check payable to: Terry Affalter

For more information contact:

Terry (Patalsky) Affalter taffalter@gmail.com

Karen (Capo) Barton
kbarton55@verizon.net

Hope to see you all there!!